Happy March! Spring is just around the corner, and so is the peak real estate season in Central Florida.  If you have questions about the market, simply reply to this email.  It comes directly to me.  I'll do my best to answer your questions.
I've been writing about the rebalancing of the market in the last few months.  The "tale of two markets," where some listings don't sell while others receive multiple offers, is still happening.  All market perimeters are way down, except the year-over-year price!  This is likely due to the still low inventory.  Remember, only homes that have sold contribute to the average and median price data.  There are definitely a lot of homes that are not selling and will inevitably go off the market or sell at a lower price.  It is still very much about the interest rates.  The dilemma is if the economy is going strong, the rates will remain high.  If the rates come down, we may be in a recession.
The market is in transition, and we are busy!  In February, I strategized an investment 1031 exchange with a past client, explored real estate on the Space Coast, previewed a luxurious home with two full kitchens, and looked for a new home for two Kiko goats displaced from a transaction!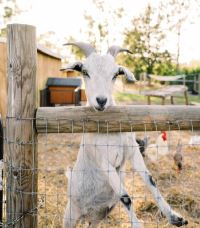 If you are thinking about buying or selling a home in 2023, please let us know as soon as you can.  We often get a sense of what's happening in the market earlier than what we see in the news.  Remember, the news is always LAGGING.  If you see something in the news and try to act, you are likely already too late.  Let us know what you are planning, even if it's very early and preliminary.  This way, we can have "placeholders" in our calendar if you are selling and keep an eye out for what you are looking for if you are buying.
Alysa and I are enjoying returning to our old practice of serving only past clients and personal referrals.  Without a large team to support, we no longer need a high volume of business.  We enjoy spending time and focusing on select clientele.   If you are reading this email, you are our select clientele.  After teaching and mentoring at my brokerage for so many years, it feels wonderful to practice my tradecraft again personally.

Our schedules do get filled very quickly.  Please do let us know, and we will plan our year out around you, including our vacation time.
Enjoy your March.  Until next month, take care!
     ~Yien and Alysa Yao


Copyright © 2023 Yien Yao, LLC, All rights reserved.