Happy December!  It's that time of the year again. We want to wish you a very happy holiday season.  Whatever tradition you celebrate, may it be filled with joy, warmth, and goodwill.
As our team reflects on this year, we are full of gratitude.  We want to thank you for your trust and support again this year.  We helped 70 families with their home purchases and sales this year.  In 2018, our clients have upsized, downsized, bought a first home, relocated, retired, bought an investment property, or sold an investment property.
Whatever the purpose and reason, we are honored to have been a part of the journey.  Each and every journey we took with our clients was special and memorable in some way. We are grateful to have been entrusted to be the guides in achieving your real estate goals. We hope our sellers are enjoying the next chapter in their life's journey, and our buyers are enjoying the wonders of homeownership.
Looking back at 2018, the Orlando real estate market continued to be healthy and stable. It's been a good year for both buyers and sellers.  Sellers have seen steady growth in their home values, while buyers have been enjoying the continuance of low interest rates. Although overall inventory has been a bit lower this year, the market has remained very stable in terms of number of home sales. Check out this year-over-year comparison: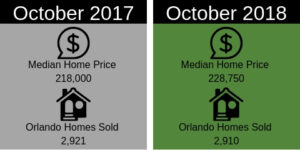 For the most recent Orlando Market Report, Click here for a short video summary: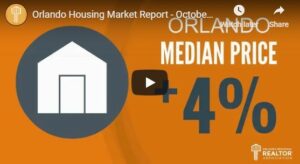 Please feel free to reach out to our team with your questions about anything real estate related.  We are passionate about real estate and spend much of our time as a team discussing the market.  We will always be here when you need us.  If buying or selling real estate is in your near future, give us a call.
Stay tuned for the January 2019 Orlando Real Estate Journal.  We will share with you the outlook for the new year along with real estate investment ideas.
We sincerely wish you a truly wondrous holiday season.  May you enjoy the fruits of your labor and the warmth of loved ones in the remainder of this year.
                  – Yien and The Yao Team